Complete Equipment Production Line for Dry Discharge of Tailing
Product Detail
Product Tags
Main Technical Features
◆The use of the complete set new process flow of tailing dry discharge can solve the problems of environmental pollution, safety hazards and large amount of land occupation caused by the traditional tailing slurry discharge.
◆When the tailings are thickened and dewatered to dry discharge, it not only saves the construction and daily maintenance costs of traditional tailing dam, but also enables the full reuse of recycled water and saves water resources. In addition, the use of backfill technology in the mine production process can eliminate the hidden safety hazards of the mined-out area, save safety investment and environmental governance funds, and is conducive to landform restoration, land reclamation and geological environmental protection, and realize waste replacement.
◆The equipment, technology and process used in the complete equipment production line for dry discharge of tailing are innovative, which opens up a new way for tailing piling and comprehensive treatment of the mined-out area.
◆Low investment and great benefit. After calculation, after adopting the tailing dry discharge process, the costs of fixed asset investment, safety governance funds, ecological environment governance funds and tailing dam maintenance are saved, and the actual cost is less than 20% of the construction of the tailing dam.
Process Flow Diagram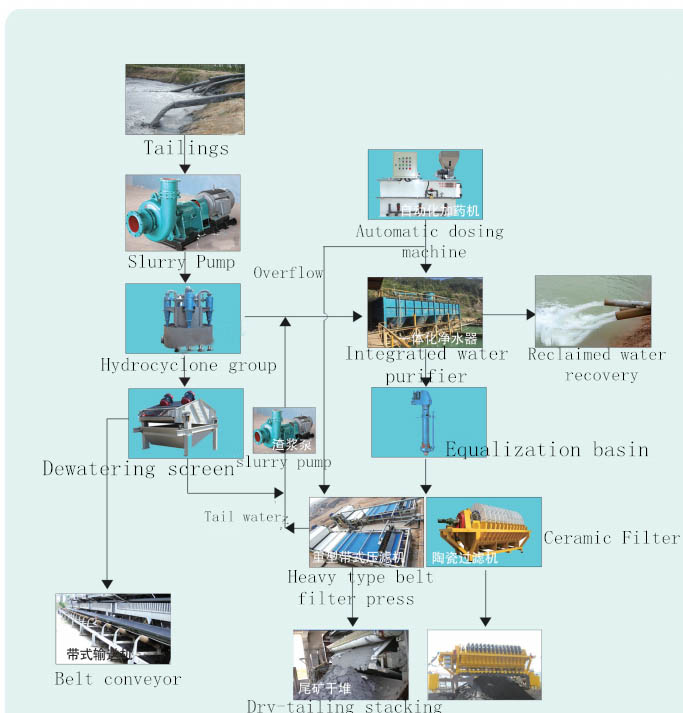 Main process equipment
1. Integrated water purifier
YTJSQ120 integrated water purifier is a high-efficiency sedimentation and thickening equipment specially designed for tailing treatment. It adopts a structure of square housing with deep cone, which is easy to manufacture and transport. It is also equipped with an automatic dosing system to reduce overflow turbidity and increase discharge concentration. It has small size and small floor space; no power required for operation, low cost and high precipitation efficiency; it adopts a steel structure with short installation period and small total investment.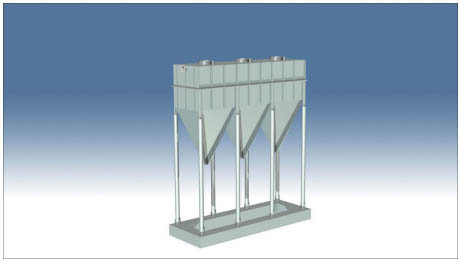 Heavy-duty belt filter press
YLJD heavy-duty belt filter press adopts split structure, with compact structure, large processing capacity, low moisture content of filter cake and good effect.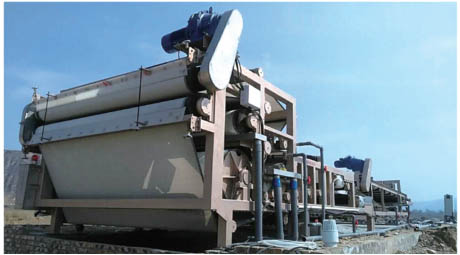 Automatic dosing machine
1) Concentration of chemicals solution:0.05%-5%;
2) Frequency conversion micro-feeding device, with anti-knot and arch-breaking device, dry powder conveying is smooth and accurate;
3) Three-stage dissolution tank, three-stage stirring, to ensure that the chemical dissolves fully and uniformly (over 45 minutes);
4) Using frequency conversion screw pump for chemicals feeding to ensure the flow rate of liquid delivery;
5) Automated control, the feeding, water supply and mixing process are running automatically, without manual intervention, saving time and effort, high efficiency.
6) Equipped with flow meter, liquid level and material level sensor, timely protection and alarm when the liquid level or material level is too low, to prevent unnecessary damage and loss caused by the equipment's dry running.
7) Box size: (length x width x height): 3000x1500x1500mm.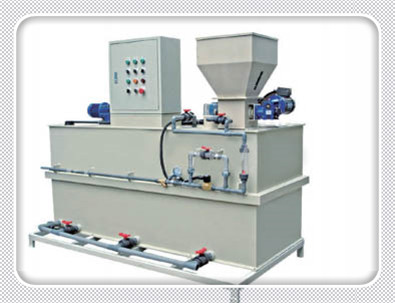 Ceramic filter
The ceramic filter is a solid-liquid separation device designed based on the principle of capillary micropores, using microporous ceramic filter plates as filter media, and using the property that the ceramic membrane micropores are water permeable and airtight.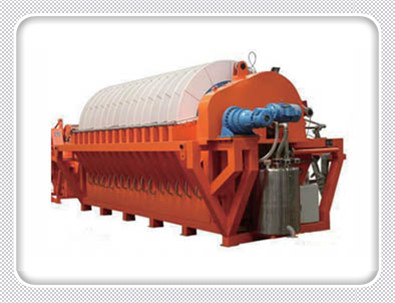 ---
---